REGISTRATION FORM FOR WOMEN STARTUP EUROPE AWARDS, SPECIAL EDITION FUERTEVENTURA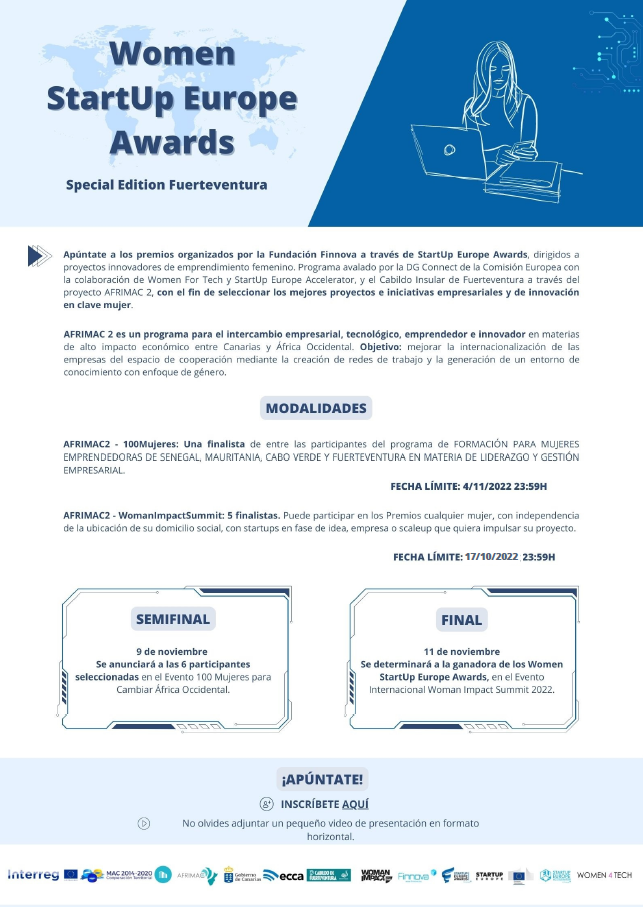 100 WOMEN TO CHANGE WEST AFRICA
100 Women to Change West Africa was born out of a commitment to be an international program to empower women, enhance their participation in economic and entrepreneurial initiatives in West Africa and, therefore, in the Macaronesian islands.
It has been organized on a basis opened to the incorporation of more countries, Governments, Institutions, Organizations, Companies and other entities interested in the global alliance for the development of West Africa, and in accordance with the strategies of development and territorial cooperation of the Fuerteventura´s government framed in the geo-strategic policy of the Government of the Canary Islands (Spain).
The project is part of AFRIMAC, a wider initiative of territorial cooperation between Europe and Africa that has as one of its transversal axes the gender perspective trying to influence in the improvement of the productive potential of women. In particular, 100 Women to change West Africa is framed within the "PROGRAM FOR BUSINESS EXCHANGE, TECHNOLOGY, ENTREPRENEUR AND INNOVATIVE IN HIGH ECONOMIC IMPACT BETWEEN CANARY ISLANDS AND WESTERN AFRICA", which acronym is AFRIMAC 2. 
In global Alliance for WEST AFRICA DEVELOPMENT